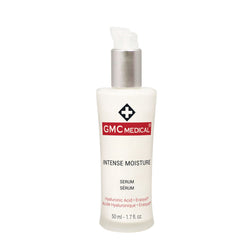 INTENSE MOISTURE SERUM
Formulated specifically to help replenish, protect and restore the skin's moisture barrier. This soothing formula reinforces and plumps the skin by hydrating to restore its youthful appearance. It is ideally recommended to rehydrate the skin immediately following aesthetic procedures such as chemical peels and laser resurfacing.
Soothes dry fragile skin
Visibly diminishes redness and hydrates skin fragilized by dryness
Provides 24 hours hydration
Reinforces skin's long-term moisturization

Paraben-free, fragrance-free, colorant-free and essential oil-free.
KEY INGREDIENTS
Hyaluronic Acid (Low & Medium Molecular Weight)
Glycerin, Trehalose, Urea, Serine, Algin, Sodium Hyaluronate, Pullulan (Moisturizing complex)
Erasyal® (Glycerin, Disodium Acetyl Glucosamine Phosphate, Caffeyl Glucoside: innovative combination of plant derivatives)
Madecassoside (derived from Centella asiatica)
Daily morning and/or evening on well cleansed skin, apply 3 to 4 pumps on face and neck. WARNING Avoid contact with eyes. If eye contact occurs, rinse thoroughly with water.
HOW CAN YOU SOOTHE, REPLENISH AND PROTECT YOUR FRAGILE SKIN?
Dehydration can affect any skin type at any age. It is due to the evaporation of skin moisture and the inability of the skin to retain moisture. A number of factors such as age, wind, sun exposure, medications, and certain aesthetic procedures can all attribute to skin dehydration.
Proper moisturization is a key component of youthful and healthy skin, providing:
An undamaged hydrolipidic barrier that protects the skin from external aggression;
A normal production of moisturizing factors (NMFs) that capture and retain water in cells present in the corneal layer;
An undamaged skin barrier that strengthens the protection against loss of water in skin;
A dermal matrix rich in hyaluronic acid to retain water. Hyaluronic acid is the skin's main water reservoir.