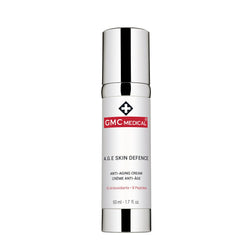 A.G.E. SKIN DEFENCE CREAM
A highly effective anti-aging cream combining 10 antioxidants and 8 peptides that work in synergy to increase the skin's vitality.
Protects the skin against environmental stressors
Combats the look of aging and visibly reduces fine lines and wrinkles
Illuminates and evens out the skin tone
Paraben-free, fragrance-free, colorant-free, alcohol-free and essential oil-free
KEY INGREDIENTS
Sophora japonica flower extract
Acetyl hexapeptide-51 Amide
Coenzyme Q10 (Ubiquinone)
Peptide Q10TM (Pentapeptide-34 Trifluoroacetate)
Scavenol NDGA (Nordihydroguaiaretic Acid)
Daily application, morning and/or evening, on a well cleansed skin, apply 2 to 4 pumps on face and neck. Avoid contact with eyes.
HOW CAN YOU PROTECT YOUR SKIN FROM OXIDATIVE STRESS?
The « antioxidant barrier » is the skin's self defence system responsible to limit the oxidation caused by both internal and external sources.
The skin's defence system becomes less efficient over time, but also due to the increasing number of aggressions that exhaust it.